Honestly, I don't mean to be a perpetual naysayer and party pooper, but today I give you reasons why I will never purchase another Revlon Lip Butter again.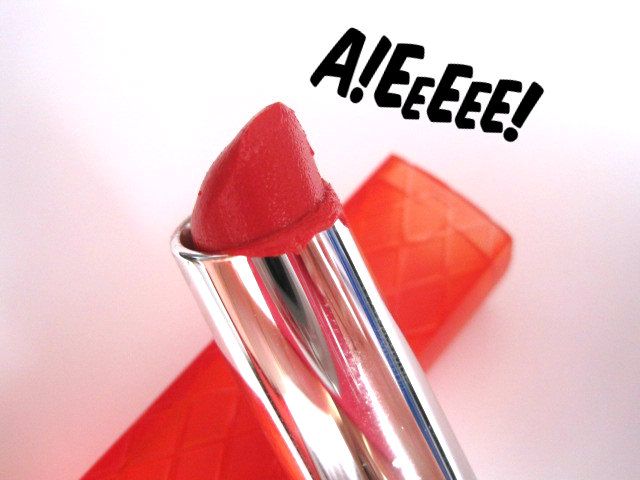 The idea behind this product is that it's a balm that deposits shiny colour, ranging from sheer at one swipe to almost full opacity with multiple layers. I broke my lippies ban last year and bought three on sale: Candy Apple (displayed), Tutti Frutti and Sugar Plum (sent to
lovely Amy
because it's her fave and I didn't like the colour on me).
Initially, I loved how Candy Apple paved the way for me to finally wear opaque red lips, which I was scared of for the longest time. Although I didn't really find it to be as deeply moisturizing as sometimes it was made out to be, the soft, balmy texture worked well with my dry lips that are prone to peeling (and subsequently picking as a way of stress relief).
THEN THIS HAPPENED.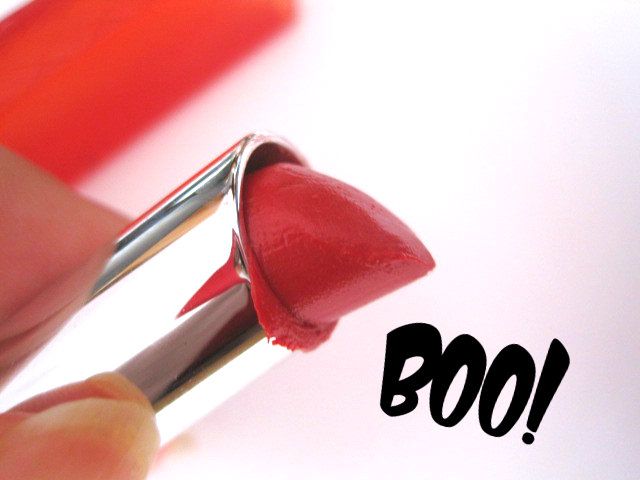 The slanted part of the tube and the lipstick failed to align, leading to TERROR, DEVASTATION AND CONFUSION.
Undaunted, I tried to go on using it. But it smashed itself up inside the tube, outside it, over it, and finally refused to wind back down. Lately I am having some very long and tiring days on less than five hours of sleep. I needed this to perk up a wan and fatigued face. Terrible were the afternoons when I couldn't get my red lips fix.
And now this is the only face I'm making when it comes to these Revlon Lip Butters.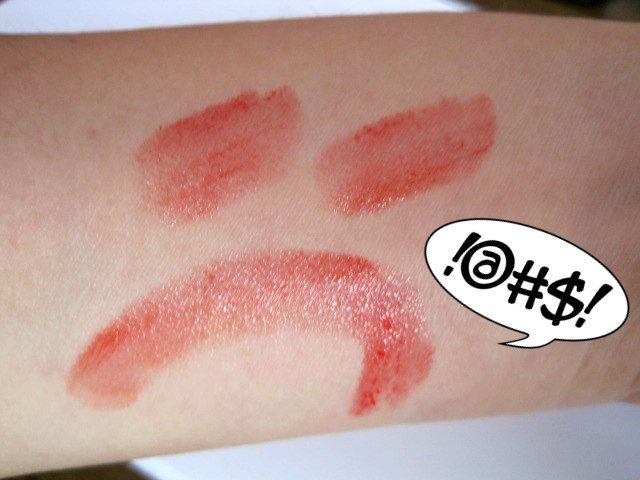 Yeah, some of you have tweeted me that this hasn't happened to your tubes. Others have said theirs was not all that, either. Since Tutti Frutti is showing the same disturbing symptoms as Candy Apple, I'm inclined to believe that the Lip Butters are prone to this deviant behaviour. No matter how good a product is, I won't put up with packaging flaws. And these Lip Butters were supposed to be easy to tote and reapply. There's no way I'm going to go through the trouble of depotting this and trying to use it up that way. TO THE EMPTIES - BE GONE.
Sigh. I'm sad. :-(
Purchased at Rexall.