A long time ago, I watched an older girl wash her face with extreme diligence and care, and she happened to have been using Shiseido at the time. It reminded me a lot of those
old Noxzema commercials
in which girls look really, really happy washing and splashing at the sink. Face-washing was never that sort of ritual for me until recently when I decided to go makeup-free on do-nothing days. After trying this cleanser, I can see why I was reminded of those things. When they call this a cleansing foam, they're not kidding. It's really, really FOAMY.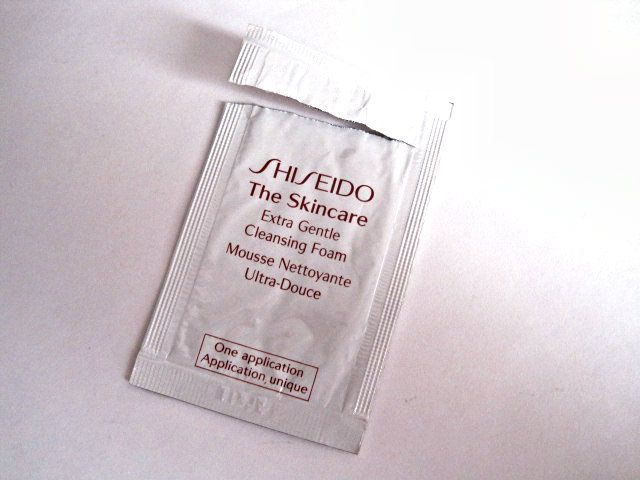 I'm not one to go crazy about foam in cleansers, but they really do give you the illusion that something exciting and wonderful is happening to the face. I've tried Shiseido in the past but only the Pureness line for the oily/acne-prone skin. I remember this cleanser and series being really popular with some girls claiming they would only use this and nothing else. Personally, I don't find it to be as gentle as it claims, because the result is a very squeaky clean skin that feels a little too squeaky for my liking -- but it sets you up for the rest of the products in the range which includes a softening emulsion and moisturizer. The scent is that generic, unoffensive and rather appealing "fresh" type that the East Asians have become masters at.
Personally, I don't feel the need to dish out USD$30.50/CAD$38 for it, but there are those who swear by it. For that price, I'd rather go back to Philosophy Purity which acts as an excellent makeup remover
and
an extra gentle face cleanser.
Ingredients:
Water (Aqua), Glycerin, Myristic Acid, Stearic Acid, PEG 6, PEG 32, Lauric Acid, Polyethylene, Potassium Hydroxide, Sorbitol, Glyceryl Stearate SE, PEG 60 Glyceryl Isostearate, Sodium Methyl Cocoyl Taurate, Beeswax (Cera Alba), Cocamidopropyl Betaine, Fragrance (Parfum), Disodium EDTA, Citronellol, Linalool, Trehalose, Sodium Benzoate, Tocopherol
Sample received as gift.
(Thanks, Mary!)