Last empties of 2012!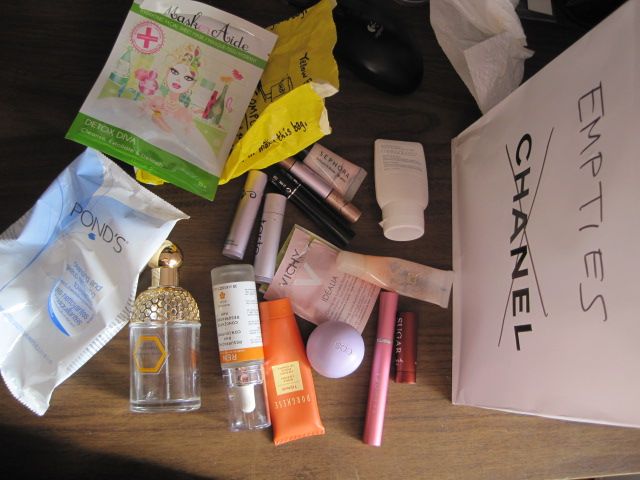 Empties
Pond's Cleansing and Makeup Removing Towelettes
* - I was surprised by how much I liked this. I stopped buying overpriced wet wipes geared for makeup removal and have been relying on baby wipes instead. This one has a strong floral/soapy smell and is super wet. Perhaps because of the extra wetness, two sheets used front and back removed 99% of makeup and exfoliated my face nicely with its textured finish. Pond's is pretty cheap so I may come back to this at some point. I was sent this product in early December and blazed through it due to long days and much laziness.
MaskerAide Hydrating Facial Sheet Mask
- My first blogger friend Toya of
Beauty Obsessed
sent me this along with a lovely Xmas card, and I slapped it on that very same night after removing makeup with the Pond's wipes noted above. I've been wiping my face and just going to bed for the past month, so either my face wasn't used to good treatments anymore or the mask was just too rich for my stupid skin. I broke out a little the next morning and sadly can't say whether it was me or the mask.
LUSH Magic Mushroom
- Ashley of
Makeup Kismet
gave me this
back in March
and I was saving it because it's so darn cute. One night I really needed a bath, didn't have the strength for a shower, and just tossed it into the tub. It turned the water red due to the red mushroom cap and looked a little disturbing, as if I had slowly bled to death in the water. I love the concept of LUSH products but find that they don't always execute to my liking in the end.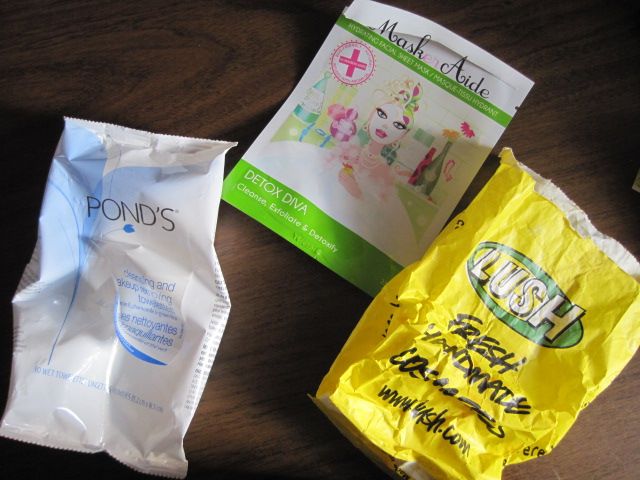 mereadesso Beautiful Body Balm
*
(Travel Size)
- The full size will set you back CAD$54 according to the product website. While I loved receiving samples of an unknown new luxe brand, I didn't love the balm to the point that it made me want to purchase it or do an individual review on it. It's a lotion in texture rather than a balm and smells fresh and citrusy with notes of herbs in the background. Not bad but nothing to rave about. I used it as a hand lotion because the sample size was handy to tote around.
Vichy Idealia Smoothing and Illuminating Cream (Sample)
- It plumped up my face and gave it a nice, soft, luminous look and feel in the morning. Enough to make me feel positively about testing out a bigger size, but not enough to make me want to buy the full size at regular price.
L'Occitane Angelica Hydration Cream (Sample)
- I can barely remember the effect of this cream. It wasn't bad and it wasn't spectacular. Kind of like the Vichy above except less memorable. Will not purchase.
Borghese Tono Body Lotion
(Travel Size)
- Reviewed
here
. I actually went to Sears to look this up and they didn't have the body moisturizers - just the scrubs. Then I found the moisturizers at Winners! They were marked down to $24.99 and I really wanted the body cream but was holding the Guerlain Terre Indigo palette and pretty makeup won. I also have a lot of body moisturizers stocked up and really couldn't justify another, even though I could justify yet another shadow palette. Dammit, life is tough, first world problems, etc, etc.
EOS Lip Balm Smooth Spheres
- One year and one month ago,
I pulled a Boromir
and kept this lip balm for myself instead of gifting it as I should have to an adolescent girl. The flavour was Passion Fruit, not that it really mattered because the scent was very light and I never noticed it at all. To do penance for my sin, I used up this sucker almost every day. Then I grew to like it because it was the least stickiest of lip balms and made for a nice prepping material before slapping lipstick on top of dry lips. I'm not sure that I'd repurchase but I don't want to say no either. Let's leave it at maybe but don't call me.
Fresh Sugar Lip Treatment (Mini)
- Reviewed
here
. I like the balm but they really need to work on making the packaging better. It looks nice and seems perfect but the balm is so soft and skinny that it gets knocked off and battered to the point that I got really annoyed with it and don't even want to look at the full sizes anymore. It's debatable whether I'd spring for the regular ones at regular prices. Maybe with a coupon or a gift card.
Maybe
. Really don't call me.
REN Resurfacing AHA Concentrate
- Reviewed
here
. I used a Sephora coupon to repurchase it. Love!
Guerlain Aqua Allegoria Mandarine-Basilic
- MY FIRST EVER PERFUME FINISH. It took 3-4 years. I used it like a fiend almost exclusively during summer months. And because I was down to the last 1/5 of the bottle and missed summer a lot in the fall, I kept on using it. I'd spray it at night to remind myself of sunny days filled with scents of basil and warm citrus. Despite being a light, refreshing sort of scent, something warm at the base really gels with my body chemistry and keeps it from being too light and flyaway. To me, it's more orange and warm, not green and leafy. I already repurchased it using the Sephora VIB 20% deal last month.
Unknown perfume in Sephora Atomizer
- I cannot remember what was in it. The scent tickles my nose and it's driving me nuts. I had this in my desk at the office and thought the atomizer was broken. But it turned out that I had emptied it long ago. I'm going insane. Soon I'll be able to take a leave of absence after pleading insanity!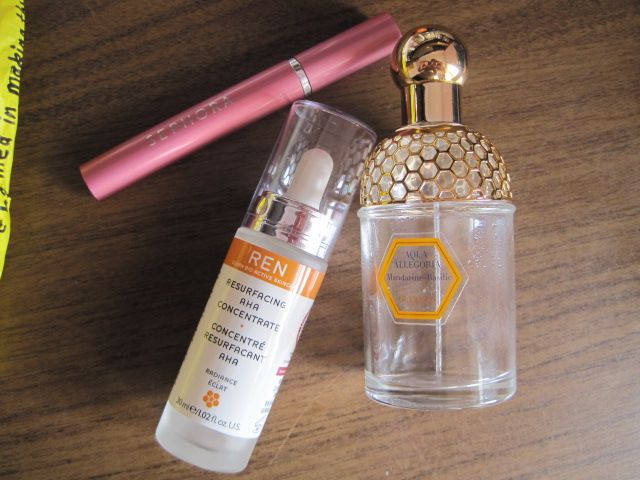 Tosses
To properly ring in the new year, I decided that some more old stuff had to go. I was nearly finished with the
Lancome and Sephora lip glosses
, but they are now going on 4-6 years in age and I feel gross looking at them. Gone.
Lancome Hypnose Star Mascara (Sample)
* - I love this mascara. And I never have to buy it because somehow I ended up with like four samples.
Tarte Lock & Roll Creaseless Eye Shadow Duo
- One side is a liquid cream and the other is a loose shadow. Both are pretty shades of rose gold that I found too shimmery when I first bought it years ago. The liquid side has dried up and I have no use for a half-finished thing that I never reach for. Also, it's so old that Tarte no longer makes this. Wah wah.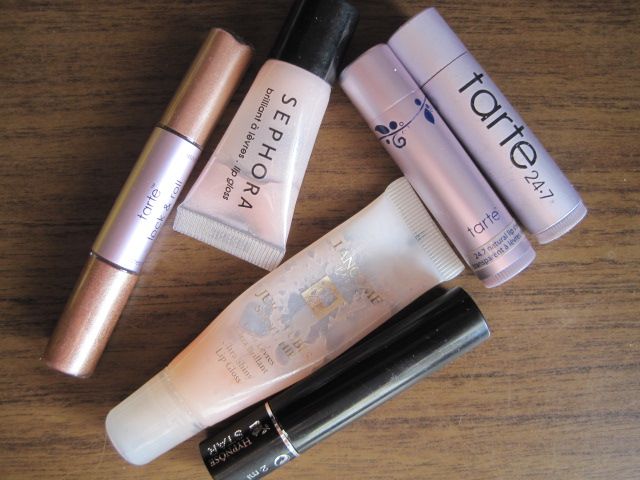 Tarte 24.7 Natural Lip Sheers in Wednesday and Sunday
- Also really old Tarte stuff that are no longer made. I loved Wednesday but was shy of wearing colours back then. The fool I was! Sunday was basically nude and I was all over it. There's plenty of product left in both but they are old and I need to move on with new loves. Also, they weren't as moisturizing as they claimed to have been.
Not pictured: Third finished
French Baguette 3-Wick Candle
- reviewed
here
. The love is going strong. I have three more left!
5 Travel/Samples = 1 Regular
That's
107 products
finished this year. INSAAAAANE. Why do we need so much stuff again? I really really want to give a concrete answer to this before this blog retires some day.
Onwards, to 2013!
*Products sent by PR/company for review.