It's a rare day when you have a free moment and discover that the sun is shining. It can mean only one thing to beauty bloggers: swatching time!
I've been wanting to swatch themed colour series for months but prime conditions were elusive. It's hilarious how I struggle to even open my eyes in the morning when it means having to go to work. But I literally
jump
out of bed when I see sunlight, running for the train case and the camera all before even the mandatory first run to the washroom.
Anyway, I've been blabbing on about loving red blushes for a while. How do the ones I acquired compare?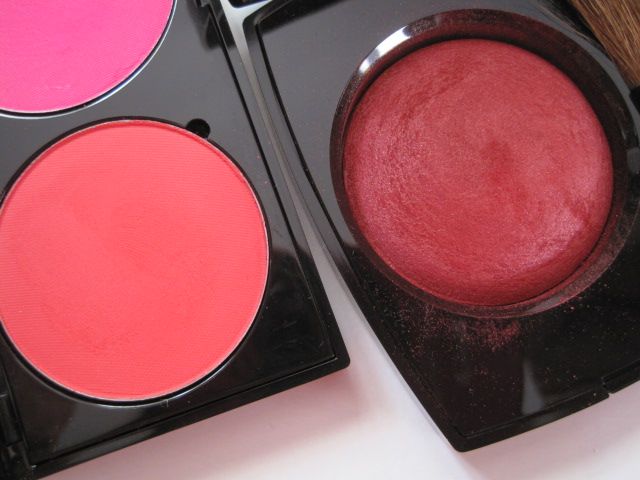 MUFE #99 (left) / Chanel Rouge (right)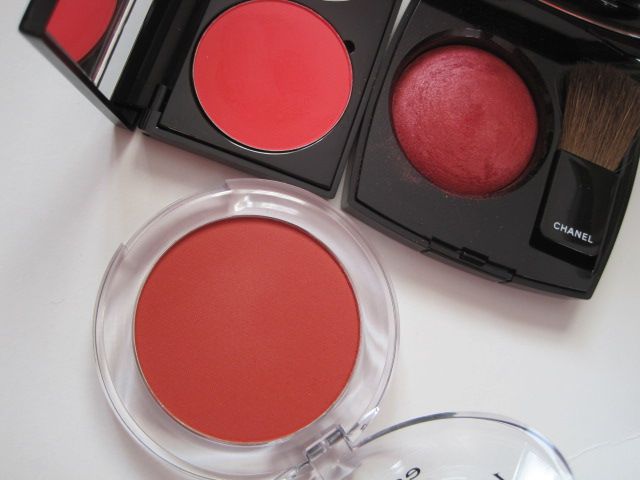 MUFE #99 (top left) / Chanel Rouge (top right) / Essence Renesmee Red (bottome)
I'm insanely happy to report that all three undeniable reds are very different from one another. I'm also very pleased that we have representation from all three major strata of the makeup brand hierarchy: drugstore cheapie (Essence), mid-range pro brand (Make Up For Ever), and the covetable luxury brand (Chanel).
To the swatches!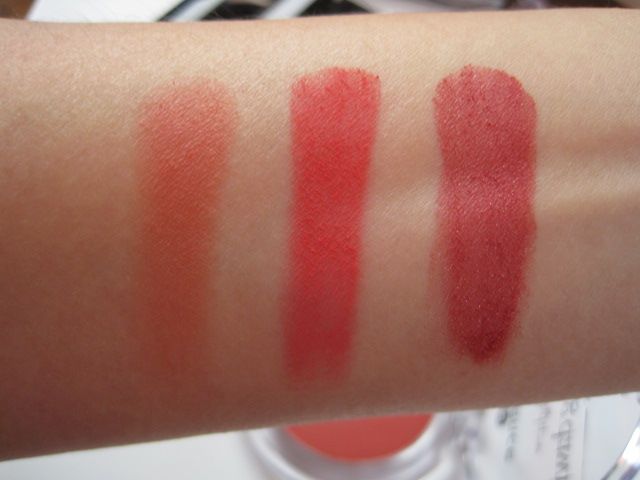 Essence Renesmee Red (left) / MUFE #99 (middle) / Chanel Rouge (right)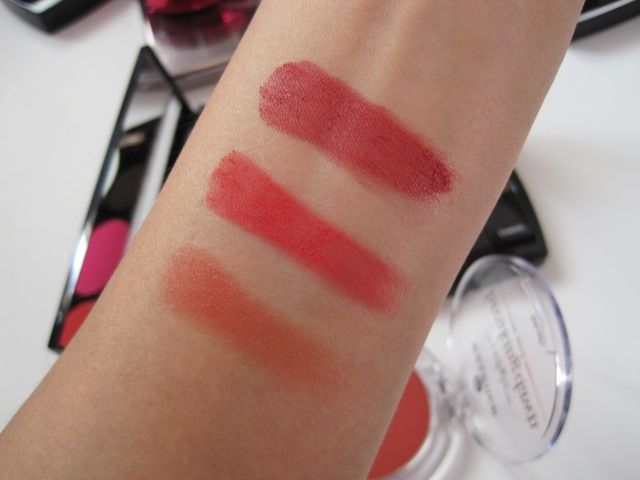 Chanel Rouge (top) / MUFE #99 (middle) / Essence Renesmee Red (bottom)
As you can see, all three are quite pigmented and require only the lightest tap of your blush brush before moving to apply to the face. As I dipped into stores to swatch various reds all throughout winter, I knew that it was difficult finding a "true red" (not too pink, not too orange, not too brown, not too blue). All three I have tend to be on the warm side of red, with
Chanel Rouge
looking almost brick red,
MUFE #99
looking very tomato red with a lean to cherry red, and
Essence Renesmee Red
looking almost orange.
All three are powder, and
Chanel Rouge
is the only baked formula while the other two are traditional pressed powders.
Of the three,
Chanel Rouge
is the most pigmented and dangerous to over-apply, though its softer formula makes it easy to blend and diffuse. It also has noticeable shimmer while the other two do not.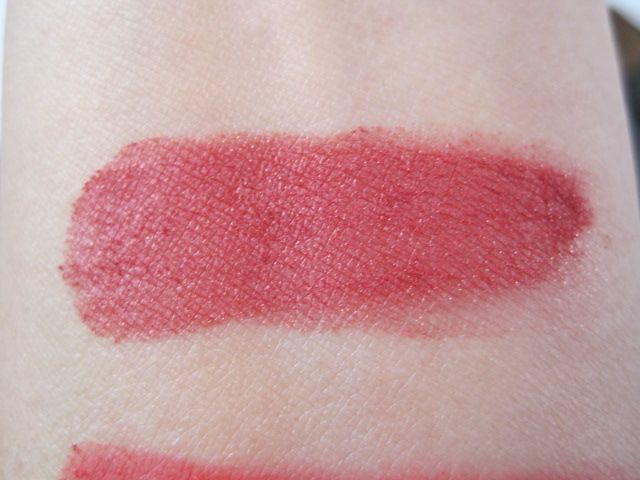 MUFE #99
is a close second and requires more thorough blending due to the chalkier quality of its texture. As most of you may know, MUFE solo powders can double as eye shadows
and
as blush, so they tend to be highly pigmented and tricky to use as blush if the colour is as bold as #99 is. (This can be done with any shadow. Check out Mimi of Makeupwithdrawal wearing
Illamasqua Daemon as a blush
!)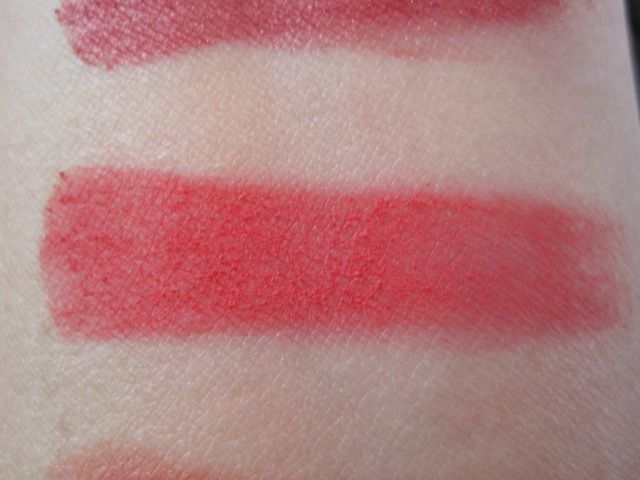 And finally,
Renesmee Red
, which I already "reviewed"
here
. I thought it was so bold when studied alone, but it's down right soft and tame when compared to the other two. It is nowhere near as pigmented as the Chanel and the MUFE and required double layers of swatching in order to display the colour more intensely on unprimed skin.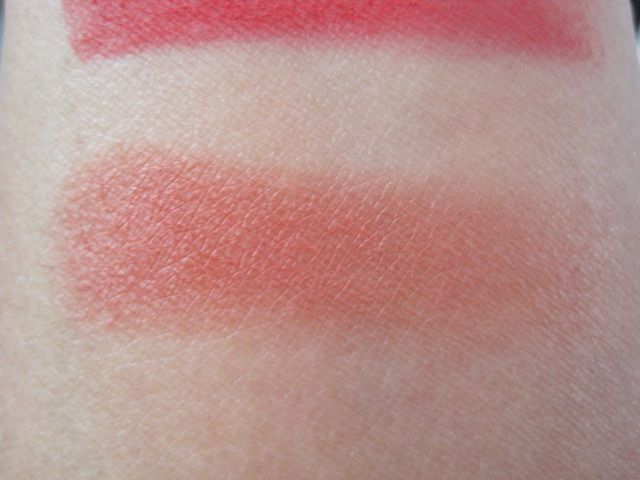 And there. I am almost satisfied with the red blushes I own. Currently my greatest lemming is
D&G Sole
, which appears to be one of the most ravishing shades of makeup ever in the history of makeup. The other is the
Shiseido Camellia Compact
(nicely reviewed by Paris B of
My Woman Stuff
), which I ordered on discount through a friendly elf. As for
NARS Exhibit A
, which kickstarted all this, I feel neutral about. If I can get it for a good deal, I might. If not, no one's crying over it. My clown cheeks are quite content, thank you very much.