As mentioned,
Les Miserables
is one of my all-time favourite books. For a good decade of my life, I would tell people that it was my favourite novel. The journey began with the abridged edition which I picked up on a whim from the public library as a teen. It sounds ridiculous and strange now, but I didn't know anyone else my age during that time who read classic literature for fun.
Because it had been a personal solo project, for a long while I didn't realize that I hadn't read the full novel. When I came across the book again at triple its abridged length, I remember pausing for a moment before picking up. It was a long read, full of Hugo's musings and personal philosophy on religion and politics for chapters at a time, but I felt better informed about why the book was written and felt proud of having read it in its entirety. When I started to work and purchase books instead of borrowing them, one of the first I bought was
Les Miserables
. I read it once or twice more after that, guiltily skipping over some of the long tangents those times.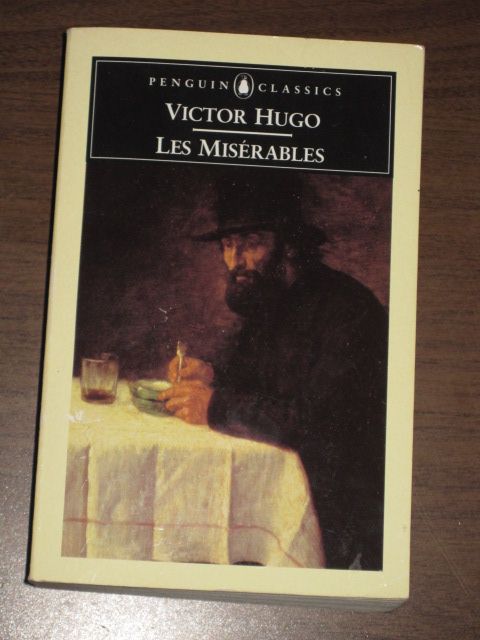 While looking for images of the book cover to write this post, I came across the picture below from the original 1862 edition, which has now been immortalized as the emblem for the musical. I think that's just amazing.
Portrait of "Cosette" by Emile Bayard, from the original edition of Les Misérables (1862)
Source: Wikipedia
I missed out on some concert opportunities and was gifted with a video of the 10th Anniversary Concert instead one birthday. I put that video on repeat so often that my family would beg me to stop watching it. Lately I've been playing certain songs from it on YouTube and again my siblings are begging me to stop. The best concert will always be the 10th Anniversary held at Royal Albert Hall with THE DREAM CAST. Years later, I was finally able to see one of the last concerts held in Toronto with Colm Wilkinson making a last run as Jean Valjean.
10th Anniversary Concert - Full Concert
10th Anniversary Concert "Do You Hear The People Sing"
Side note: I am
all
about Enjolras. :-)
10th Anniversary Concert Finale
I NEED A REVOLUTION, STAT!!!
Despite the mixed reviews, I knew that I had to watch the new Hollywood version of
Les Miserables
. Foolish me, I thought it was going to be a mix of music and dialogue along the lines of
The Sound of Music
. It turned out to be a near replica of the musical with a lot of bad singing. Say what you will about Hugh Jackman being a broadway man, but the best singer in the cast turned out to be Eddie Redmayne and -- yes, Anne Hathaway.
I think it's still worth watching the movie because a good story can never be told enough. My personal opinion is that the movie could have taken advantage of its medium and told a much better story, using the book as the source material rather than staging an elaborate copycat version of the musical. It feels to me like a wasted effort on replicating something that could not be bested when they had a fantastic opportunity to create something new and fresh. The musical did something amazing with an old book and created lyrics that delivered the sentiments of a thousand page novel succinctly with just as much, if not more, impact. I read a review somewhere that pointed out that all the close panning of the cameras to the actors' faces was providing an intimacy that the musical could not, but in my unabashed opinion, it's a wasted effort when most of the actors had trouble singing, enunciating and emoting at the same time. And I am in no way blaming the actors for the movie's failures. They are not trained singers. If anyone, I blame the writers, editors and the people at the helm.
Nonetheless... THE DREAM LIVES ON.
2012 Movie Trailer
And now, for my favourite part: following the evolution of a piece of culture to its present effect. It doesn't remain dormant and wither with the pages of old tomes. It doesn't go stale in a movie reel and die with rotten tomatoes. It becomes a part of us as something alive and at large and at work. If I had been in this Graham Norton audience, it would have been embarrassing how loudly I would have sung my heart out. You just can't listen to this and not shout it:
Do you hear the people sing?
Singing a song of angry men?
It is the music of a people
Who will not be slaves again!
When the beating of your heart
Echoes the beating of the drums
There is a life about to start
When tomorrow comes!
Hugh Jackman leading the audience into song on The Graham Norton Show (12:46). I recommend watching the entire episode because all three of the male guests are hilarious together.
What does this have to do with beauty and this blog? Not much. All I can offer you on that front is that Fantine's hair looked so shiny and long and pretty in the movie that it inspired me to not chop off my hair, which is about the same length pre-shearing. Dammit, how do I get it to look so shiny and bouncy?
Edited to add: The orchestra conductor of the 10th anniversary concert has KILLER cheekbones!
Long story short: Going on lengthy rants about being let down is also another thing I Like A Lot.