Damn, that's a mouthful. I will be referring to this foundation simply as "Hourglass Immaculate Foundation" from now on. According to the Sephora website:
What it is:
A mattifying, antiaging foundation that absorbs oil, camouflages imperfections, and ensures a long-lasting flawless finish—without the need for touch-ups.


What it does:
Consider Immaculate your miracle for oily skin. This innovative liquid-powder formula delivers an unparalleled matte finish with real longevity that lasts all day. The oil-free and water-resistant foundation goes on smoothly and dries down instantly to a soft, velvet finish that is ideal for oily or blemish-prone complexions.
Long time readers should know the following about me:
I love Hourglass. If I could spend the rest of my life with only one makeup brand, it would be Hourglass. The quality of every single product I tried is superb and flawless. It is the one brand that I consider 100% worth the price.
I have oily skin. It has "normalized" somewhat over the course of this past year and is less prone to breakouts, but I devoted half of my life to the pursuit of effective mattifying products.
If I could wear only one makeup, it's foundation. I have a list of insecurities about my appearance like everyone else in the world, but high on that list is my scarred complexion. I like pretending that it's flawless.
Given all of the above, if this foundation doesn't sound like it was custom-made for my skin, then... I don't know. Life won't make sense anymore!
I finally decided it was time to dabble with liquid foundations again. Or liquid powder hybrids or whatever. The Eaton Centre Sephora has a limited range of the shades, and the closest as far as I could tell in that dim lighting was
Shell
and
Beige
. (I'm anywhere from NC25-NC40, depending on the season.)
As you can see, there's a world of a difference between Shell and Beige. Since I'm at my absolute palest at the tail end of winter, Shell turned out to be a fairly decent match.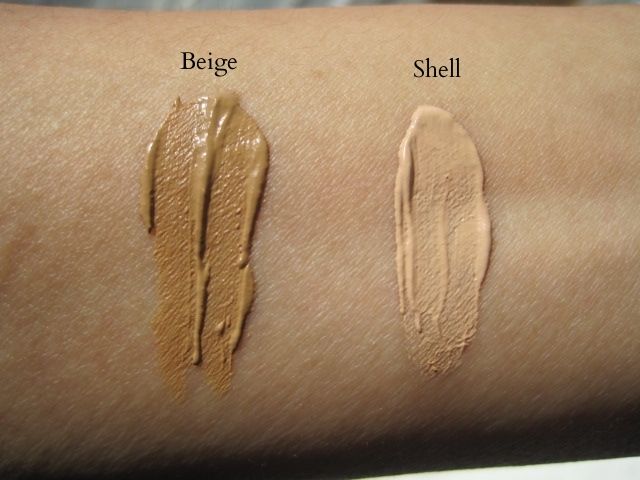 A small, chick pea-sized dot is required to provide substantial coverage on each side of my face. It dries fairly quickly, miraculously transforming to a powdery velvet texture that makes layering difficult. You need to work quickly to blend it out, and the coverage is on the medium-heavy side without being mask-like. I still need concealer to spot correct the worst of my acne scars, but I often skip that step in order to look more natural and less "done."
While I love the overall effect of this foundation on my face, it is horrible on any areas that are the slightest bit dry.
Do not apply on flaky skin and dehydrated surfaces.
Winter skin is a bitch. Even after exfoliating and moisturizing, the areas around my nostrils and hairline/scalp are flaky and dry. I avoided those spots and focused application on forehead and cheeks. Then we got along splendidly.
Due to its powdery finish, there was no need to "set" with additional powder. In conjunction with the
Becca Resurfacing Primer
, it wore flawlessly for 12 hours during the course of one full work + school day. My nose did get shiny after the 4-5 hour mark, but considering that most foundations go shiny on the nose after one hour, this was no small feat.
In short, I think that the Immaculate Foundation is a mixed bag. Its longevity and coverage is almost without equal, and colour match is nearly spot-on. However, its absolutely unforgiving treatment of dry spots is a problem, as I seem to be transitioning from totally oily skin to something closer to combination skin. I would have adored this product 3-4 years ago when I was truly obsessed with mattifying foundations. For now, I'm sitting on the fence and doing some more hemming and hawing.
(Sorry for the lack of face shots! But you can see it in action on the lovely Toya of
Beauty Obsessed
here
.)
Available at
Sephora
(CAD$64).
Edited March 25, 2013: Was just informed that new shades have been added to the Immaculate range, for a total of 16 different choices. Make sure that your local counter carries all 16 before testing!