I'm skipping over spring pastels and diving straight into punchy summer corals and aqua. Who's with me???
My desire for orange red lippies has been burning strong since late January. I'm looking at anything that uses the words "coral", "mandarin", "orange", "clementine" and such. Pinkish corals look awful on me, so I determined that orange reds will be the thing. It turns out I already have a goodly amount of those shades within my own stash.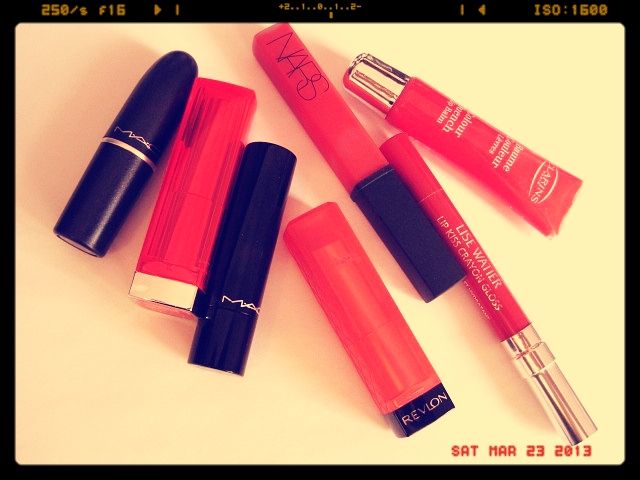 Let's pretend that it's summer...
Let's start with the sheerest of the bunch: Lise Watier Lip Kiss Crayon Gloss in
Mango Punch
, NARS Lip Gloss in
Wonder
, and Clarins Colour Quench Lip Balm in
#14 Blood Orange
.
Lise Watier Mango Punch
- Looks sheer on the arm swatch but is buildable to near opacity on lips with a strong lean to red rather than orange or mango. It looks awesome on a bare face with giant sunglasses on.
NARS Wonder
- The most orange of the bunch. It has medium opacity for a gloss and I like to wear it on its own without layering.
Clarins Blood Orange
- It looks punchy on the swatch but applies much more sheerer on the lips. It's less stickier and more moisturizing than the NARS. It also contains gold micro-shimmer that's more evident in person than on the photo.
Next are sheer lipsticks or lipstick-balm hybrids: MAC Sheen Supreme Lipstick in
Korean Candy
and Revlon Lip Butter in
Tutti Frutti
.
Revlon Tutti Frutti
- Quite sheer on initial application but can be layered to near opacity with slight sheen. Like its sister Candy Apple, I love the shade and formula and texture but cannot deal with the packaging issues. It's now twisting in the tube and driving me nuts.
MAC Korean Candy
- As you can see, it's much more pigmented than Tutti Frutti and has to be sheered out rather than built on for flexible coverage. Both shades are definitely in the orange camp, with Korean Candy being a darker version of Tutti Frutti, if you will.
Finally, the full strength lipsticks: MAC Matte Lipstick in
Lady Danger
and Maybelline Color Sensational Vivid in
Vibrant Mandarin
.
MAC Lady Danger
- It's a stunning warm coral red which is much more obvious when held next to a cool-tone red. It's fully opaque in one glide and I'm actually still afraid to wear it full force. But I'm working on it!
Maybelline Vibrant Mandarin
- It's close to MAC Korean Candy in colour but less shiny and more opaque in finish and pigmentation. The entire range of Maybelline Vivids are wildly tempting for summer. I was torn between this and Electric Orange but decided that Vibrant Mandarin was a more complex shade that could be enjoyed more frequently than a simple flat orange that's more difficult to pull off on a regular basis.
Well, I was going to leave it there, but now it's apparent that we need a showdown between Vibrant Mandarin and Korean Candy.
Huh. Vibrant Mandarin is actually more vibrant salmon next to Korean Candy. I noticed that the Maybelline Vivids all seemed to have a strong lean to pink, but when held up alone, Vibrant Mandarin seemed orange enough. Well, now we know. It seems that I may have to pick up Electric Orange after all.
Or do I?
I suppose that's enough punch orangey red lips after all. But I still have my eye on the new Clarins Rouge Eclat in
Juicy Clementine
. I'm convinced that it's
oranger
than these bunch without being totally full force orange, if you know what I mean.
For now, I'm slipping the sunglasses back on and pretending that it's 30C and humidity is making my hair go wild. Ahhh, summer, hurry!
What's your favourite punchy summer lip?